Scott Dixon sets Indianapolis 500 pole record speed with 234MPH average in fastest Indy Qualifying All-Time
The fastest field in the 106-year history of the Indianapolis 500 qualified on Saturday and Sunday at the Indianapolis Motor Speedway. With 16 of the 20 fastest four-lap averages ever set at Indy during this past weekend's qualifications, Scott Dixon led the way with a statement pole victory for his PNC Bank Chip Ganassi Racing Honda team.
After qualifying 10th in Saturday qualifications, Dixon advanced to Sunday's Firestone Fast 12 session. However, the six-time series champion was upset with the way his team set-up his No. 9 Honda given the tricky track conditions that the entire grid fought Saturday, including two rain showers that stopped activity and ended the day over an hour early. Nevertheless, Dixon toppled Saturday's fastest driver, Rinus VeeKay, in the top 12 qualifying session Sunday afternoon from IMS.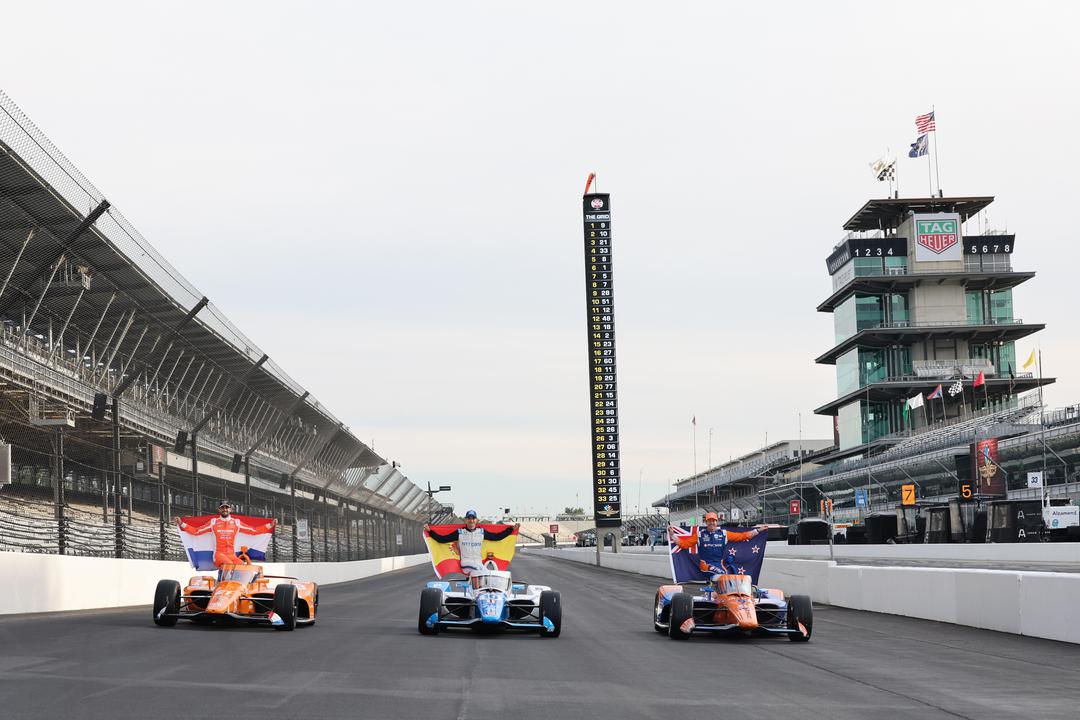 With a 233.51MPH average to VeeKay's 233.429, Dixon reassaurted himself and the Chip Ganassi Racing crew, who advanced all five of thier Hondas to Sunday's activities, with just rookie Jimmie Johnson failing to make the top-six from the stable.
Scott Dixon impressively put back-to-back laps averaging 234MPH to start his Fast Six qualifying attempt. Dixon's No. 9 continued to be consistent in the remaining two laps and set a new all-time pole record speed at a 234.046MPH average. For Dixon, it's his fifth pole award in the Indy 500, putting him second all-time just one behind Rick Mears' record.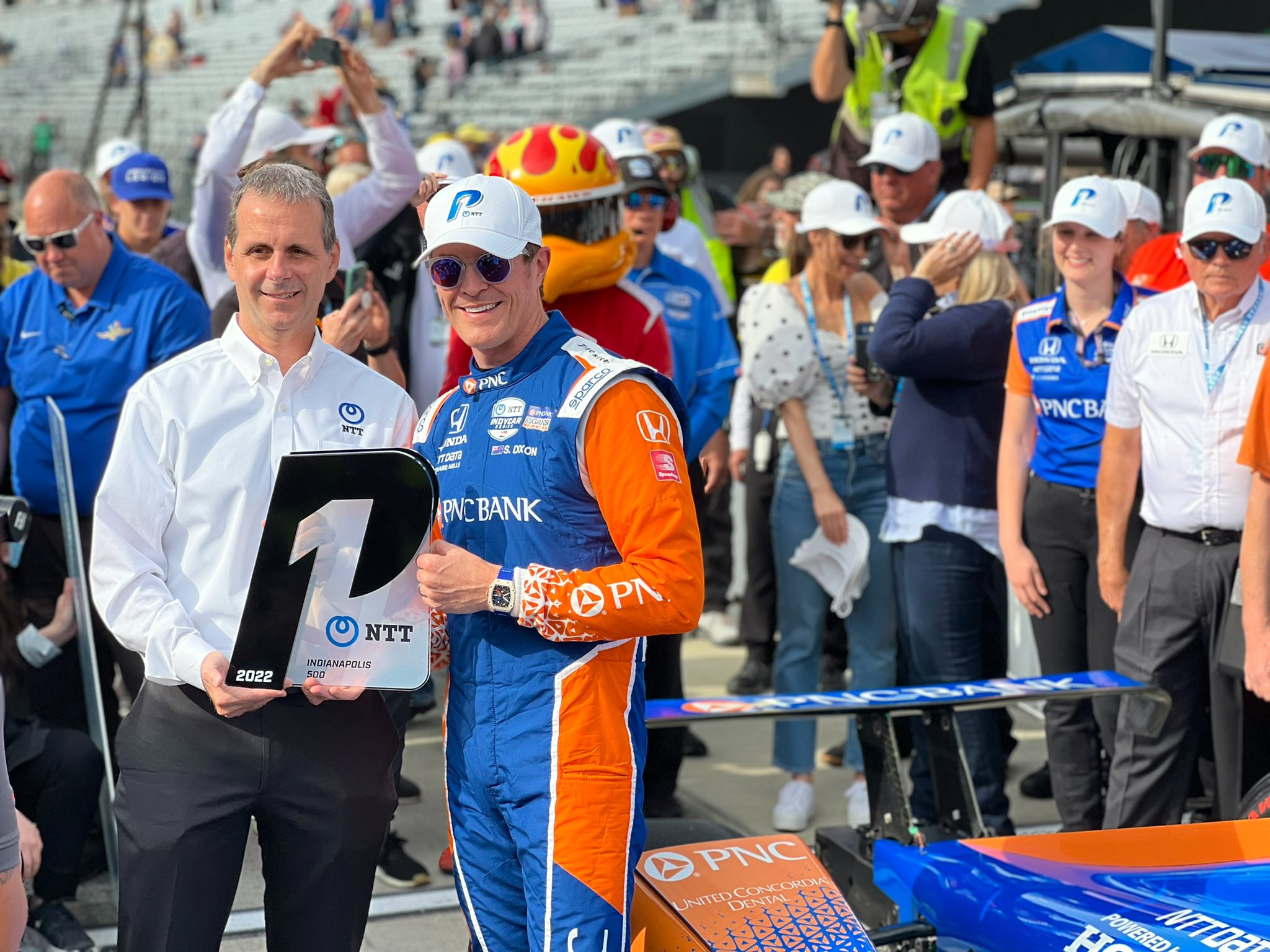 Alex Palou, the defending series champion and young teammate to Dixon, took second in the session. The young Spaniard finished second from a sixth-place starting spot in his second attempt at the Greatest Spectacle in Racing last May, en route to his championship.
Rinus VeeKay ultimately came away third-place in the final session, continuing his impressive streak of top-five starts at Indy. The 21-year-old Dutchman has qualifying positions of 4th, 3rd and 3rd for the Ed Carpenter Racing team. His final speed was set at 233.385MPH in the pole shootout. The No. 21 Chevrolet averaged a 233.655MPH four-lap average in Saturday's session, best among all drivers.
VeeKay's car owner and fan favorite Ed Carpenter will start fourth. His ECR No. 33 Chevrolet paced an average speed at 233.080MPH, just ahead of Marcus Ericsson and 2013 winner Tony Kanaan.
Arrow McLaren SP's full-time duo of Pato O'Ward and Felix Rosenqvist posted top-five times on Saturday, however, were some of the first eight cars to take to the track in ideal track condiitons early in the session. In Saturday's top 12 session, the McLaren Chevrolet duo averaged close together much like their Saturday times, however, fell down the charts to 7th and 8th. Pato O'Ward's No. 5 lines up on the inside with Felix Rosenqvist's No. 7 in the middle of row three.
The lone Andretti Autosport machine to take to the track on Sunday was Indy 500 rookie Romain Grosjean. Grosjean's first take to Indianapolis qualifying and the additional boost that comes with it came with an eye-opening experience for the former F1 pilot. His DHL No. 28 put up the 9th fastest average in the session.
Will Power was the lone Team Penske driver to make the session, and succumbed to the fact he wouldn't threaten the pole position. He qualified 11th of the dozen who continued through Sunday, but will start ahead of teammates Josef Newgarden (14th) and Scott McLaughlin (26th).
Jimmie Johnson in his Indy 500 rookie weekend brings up the rear of the five CGR Hondas, however, was one of the fastest drivers all weekend in qualifying trim. The two-time Daytona 500 and four-time Brickyard 400 champion was a threat to advance through the Fast Six, however, on his opening lap his Carvana Honda rode wide shooting through the exit of the opening turn, and the former off roader used all his might in his palms to keep the boosted-up Dallara wrangled underneath him. The impressive save kept Johnson out of the concrete barrier, and he continued to complete his four-laps, albeit, slowed from the minor hiccup. He starts 12th in his first Indy 500 appearance.
Stefan Wilson failed to post a time as the DragonSpeed Cusick Motorsports team were changing out an engine when the rain struck Indianapolis on Saturday. With no time taken to the track, Wilson and the No. 25 Chevrolet will start shotgun on the field.
Former winners competing in this year's 500 include polesitter Dixon (who won from pole in 2008 — which also happened to be the last time Ganassi owned cars qualified first and second), Tony Kanaan (2012), Takuma Sato (2017, 2020), Will Power (2018), Simon Pagenaud (2019), Alexander Rossi (2016), Helio Castroneves (2001, 2002, 2009, 2021) and Juan Pablo Montoya (2000, 2015).
106th Indianapolis 500 Qualifying Results

1: Scott Dixon (9) – 234.046MPH / NZL, Chip Ganassi Racing Honda
2: Alex Palou (10) – 233.499MPH / ESP, Chip Ganassi Racing Honda
3: Rinus VeeKay (21) – 233.385MPH / NLD, Ed Carpenter Racing Chevy
4: Ed Carpenter (33) – 233.080MPH / USA, Ed Carpenter Racing Chevy
5: Marcus Ericsson (8) – 232.764MPH / SWE, Chip Ganassi Racing Honda
6: Tony Kanaan (1) – 232.372MPH / BRA, Chip Ganassi Racing Honda
7: Pato O'Ward (5) – 232.705MPH / MEX, Arrow McLaren SP Chevy
8: Felix Rosenqvist (7) – 232.182MPH / SWE, Arrow McLaren SP Chevy
9: Romain Grosjean (28) – R – 231.999MPH / FRA, Andretti Autosport Honda
10: Takuma Sato (51) – 231.670MPH / JPN, Dale Coyne Racing w/ Rick Ware Racing Honda
11: Will Power (12) – 231.534MPH / AUS, Team Penske Chevy
12: Jimmie Johnson (48) – R- 231.254MPH / USA, Chip Ganassi Racing Honda
13: David Malukas (18) – R – 231.607MPH / USA, Dale Coyne Racing w/ HMD Motorsports Honda
14: Josef Newgarden (2) – 231.580MPH / USA, Team Penske Chevy
15: Santino Ferrucci (23) – 231.508MPH / USA, Dreyer & Reinbold Racing Chevy
16: Simon Pagenaud (60) – 231.275MPH / FRA, Meyer Shank Racing
17: J.R. Hildebrand (11) – 231.112MPH / USA, A.J. Foyt Enterprises Chevy
18: Conor Daly (20) – 230.999MPH / USA, Ed Carpenter Racing Chevy
19: Callum Ilott (77) – R – 230.961MPH / ENG, Juncos Hollinger Racing Chevy
20: Alexander Rossi (27) – 230.812MPH / USA, Andretti Autosport Honda
21: Graham Rahal (15) – 230.766MPH / USA, Rahal Letterman Lanigan Racing Honda
22: Sage Karam (24) – 230.464MPH / USA, Dreyer & Reinbold Racing Chevy
23: Marco Andretti (98) – 230.345MPH / USA, Andretti Autosport Honda
24: Devlin DeFrancesco (29) – R – 230.326MPH / CAN, Andretti Autosport Honda
25: Colton Herta (26) – 230.235MPH / USA, Andretti Autosport Honda
26: Scott McLaughlin (3) – 230.154MPH / NZL, Team Penske Chevy
27: Helio Castroneves (06) – 229.630MPH / BRA, Meyer Shank Racing Honda
28: Kyle Kirkwood (14) – R – 229.406MPH / USA, A.J. Foyt Enterprises Chevy
29: Dalton Kellett (4) – 228.916MPH / CAN, A.J. Foyt Enterprises Chevy
30: Juan Pablo Montoya (6) – 228.622MPH / COL, Arrow McLaren SP Chevy
31: Christian Lundgaard (30) – R – 227.053MPH / DNK, Rahal Letterman Lanigan Racing Honda
32: Jack Harvey (45) – 226.851MPH / ENG, Rahal Letterman Lanigan Racing Honda
33: Stefan Wilson (25) – No Time / ENG, DragonSpeed-Cusick Motorsports Chevy